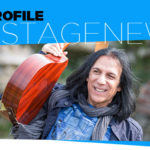 Dear Stage Friends
We sincerely wish you a very lucky start into the new year. May you manage to live happily!
2018 is an anniversary year: Albino Montisci has been giving concerts in Italy and abroad for 40 years. Auguri! It's the perfect reason to come to Germany and Switzerland for two concerts in March.
Jean-Daniel von Lerber, Gaetano Florio, Senta Baumgartner & Eva Brusadin
Albino Montisci Band – LIVE!